WOODBRIDGE PEDIATRICS IS HELPING OUR PATIENTS TO STAY SAFE AND HEALTHY!
WE ARE NOW OFFERING TELEMEDICINE VISITS!
During this difficult time, Woodbridge Pediatrics is trying to do all that we can to keep our patients safe and healthy. To aid in this endeavor, we are now offering Telemedicine visits for certain appointments. Taking part in a Telemedicine visit is as easy as clicking the appointment link on your smart phone. Please call the office for more information.
Congratulations to our Washingtonian Top Doctors, Dr. Labriola and Dr. Bekhit for their commitment to providing excellent care!
Welcome to Woodbridge Pediatrics!
Established in 1972, Woodbridge Pediatrics has been proudly providing pediatric care to our community for 40 years. We are ready to work with parents and guardians to provide the best care possible for the health and wellness of your child. We provide care to children from birth up to 21 years of age. Our pediatricians and providers are all board-certified and experienced in the care of pediatric patients.
I am always welcomed and feel comfortable here. "I know that when I come to see Dr. Bekhit I will leave with a positive experience and all of my questions answered. She always takes time with us and that lets me know that she cares!
-C.C. 12/03/15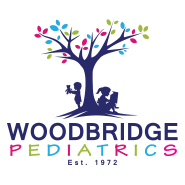 OFFICE HOURS
Monday – Friday
8:30 a.m. – 5:00 p.m.
Saturday
8:30 a.m. – 11:00 a.m.