Have questions about your child's symptoms?
When to call the doctor
Fever greater than 100.4 F or above, especially in infants under three months of age
Unusual drowsiness or inability to arouse the baby/child or continuous crying for over one hour
Difficulty breathing
Repeated choking spells or 'blue" spells while feeding
Twitching or convulsions
A yellow color of the baby's skin and white of the eyes
Rash, especially if there is also a fever
Limping or is not able to move an arm or leg
Ear pain with fever or drainage from ear.
Unable to sleep or drink, is vomiting, has diarrhea, or is acting ill
Severe sore throat or problems swallowing
Sharp or persistent pains in the abdomen or stomach
Pain that gets worse or does not go away after several hours
Blood in the urine or stool
Not drinking or decrease urine output for more than 12 hours
Any cough or cold that does not get better in several days, or a cold that gets worse and is accompanied by a fever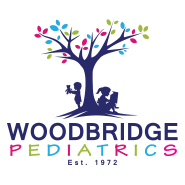 OFFICE HOURS
Monday – Friday
8:30 a.m. – 5:00 p.m.
Saturday
8:30 a.m. – 11:00 a.m.