Established in 1972, Woodbridge Pediatrics excels at offering excellent medical care for infants, children, and adolescents. The providers and staff at Woodbridge Pediatrics take pride their work and in the long history of the practice delivering care to families throughout Northern Virginia. Our providers are on call 24 hours a day, 365 days a year, without exception.  If you have an urgent matter, you may page the provider on-call. Call 703-494-1144 to get connected to on-call provider, even after hours. We have a wide range of interest throughout the medical spectrum. Our practice has also embraced technology and has moved completely to electronic medical records (EMR) to best serve our patients and to make more information readily available to you. We look forward to working with you and your family to keep your children happy and healthy!
Paula A. Labriola, MD, FAAP
Dr. Labriola obtained her Bachelors of Arts degree at the University of Pennsylvania in Philadelphia. After completing her medical education at the University of Pittsburgh, she received her training in pediatrics and completed residency at the Cincinnati Children's Hospital Medical Center. Dr. Labriola joined Woodbridge Pediatrics in 1993. She is Board Certified and a Fellow of the American Academy of Pediatrics. She is fluent in Spanish. Washingtonian Magazine has also awarded Dr. Labriola as a "Top Doctor" in the DC Metro area for multiple years!
Kathleen C. Bekhit, MD, FAAP
Dr. Bekhit received her Bachelors of Science degree from the University of Notre Dame. She completed her medical education at Ross University and her pediatric residency training at Mercer University. Dr. Bekhit joined Woodbridge Pediatrics in 2012, is Board Certified, and a Fellow of the American Academy of Pediatrics. She is fluent in Arabic. Dr. Bekhit enjoys training and mentoring pediatric residents and participates in medical volunteering/aid trips to Africa. She has been rewarded as a "Top Doctor" from Washingtonian Magazine and Northern Virginia Magazine!   
Frances M. Vega, MD, FAAP
Dr. Vega received her Bachelors of Science degree from Universidad de Puerto Rico in Biology.  She completed her medical education at the Universidad Central Del Caribe and her pediatric residency training at Children's Hospital of Georgia.  She is Board Certified by the American Board of Pediatrics and a Fellow of the American Academy of Pediatrics. Dr. Vega is fluent in Spanish and joined Woodbridge Pediatrics in 2016. Dr. Vega loves spending time with family and her pet dog.
Cassandra Wineland, CPNP-PC
Cassi obtained her Bachelors of Science in Nursing degree and Masters of Science in Nursing from the University of Toledo. (Go Rockets!) She has nursing experience in pediatrics as well as in caring for women in labor/delivery, and newborns in the special care nursery. She has previously instructed nursing students and taught neonatal resuscitation. She is certified by the Pediatric Nursing Certification Board as a Pediatric Nurse Practitioner, and is also a member of the National Association of Pediatric Nurse Practitioners (NAPNAP). She enjoys spending time with her family and her dog, Caramel Macchiato. 
Emily Scott,

MSN, FNP-C
Emily received her Bachelors of Science from Duquesne University in Pittsburgh, PA.  She completed her residency program at Children's National in the Pediatric Intensive Care and has over 4 years of pediatric nursing experience.  She graduated Duquesne University with her Masters of Nursing and is Board Certified by the American Association of Nurse Practitioners as a Family Nurse Practitioner.  Emily joined the Woodbridge Pediatrics team in 2021.  She enjoys hiking, traveling, snowboarding and loves spending time with her husband and puppy, Rigatoni.  Welcome to the team!
FRONT DESK
Our receptionists have as many answers as you have questions! Whether you are a new patient calling in to setup your first appointment or a returning patient with a question our team is ready to assist. You will always be greeted with a warm smile.
NURSES TEAM
When you come into Woodbridge Pediatrics, trust that you are in good hands and will be taken care of with warm hearts. Our nurses are caring, gentle, knowledgeable, and always ready to help or answer any questions. Our nurses have a combined pediatric nursing experience of over 75 years so nothing catches them off-guard! To contact a nurse -call the main line at 703-494-1144 and select option 2.
BILLING STAFF
Our billing department works diligently to keep all files in order and discrepancies to a minimum. They are available to answer any questions you may have.
HEAD NURSE & OFFICE MANAGER
Our head nurse and office manager represent one of the strongest front-office teams in the area and are a great tag-team! On a day to day basis, they keep the office and entire operation running smoothly while troubleshooting any issues that may arise.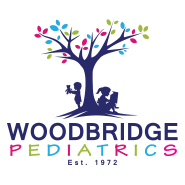 OFFICE HOURS
Monday – Friday
8:30 a.m. – 5:00 p.m.
Saturday
8:30 a.m. – 11:00 a.m.